Last Minute Shopping for Easter Dress
If any of you are like me, I put off things until the last possible minute. I was not like that until I had a baby, but now I am all procrastinator. With that being said, Easter is in FOUR days, and I still haven't bought my dress for church on Sunday. Thank. God. For. Online. Shopping. And overnight shipping of course.
For you moms and other procrastinators out there, I have put together a list of cute dresses that would be perfect for Easter and for last minute shopping.
This cutout mini t-shirt dress from Forever 21 is perfectly simple, but still adorable and can be dressed up with wedges and arm candy. Check it out here for just 12.90.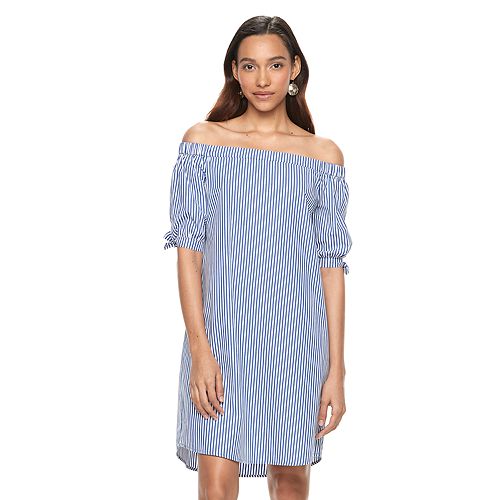 I LOVE this striped off the shoulder dress from Kohl's. Off shoulder is definitely in fashion, but still modest and perfect for mom life. Check it out here for $34.99.
Any other floral lovers out there like I am? I adore this dress from H&M, and want it in my closet. I love the florals, but I also love that it's modest. Check it out here for $24.99
If you're looking for a more bright and vibrant dress, this cute fit and flare mini dress from Walmart is perfect. Add some cute heels and even possibly a light cardigan in case it's chilly in church and you'll be ready to go. Check it out here for just $24.99.
I guess by now it's obvious I like floral prints. This floral wrap dress from Dillard's is a beauty. Add some cute booties, and you'll be the prettiest one at church. Check it out here for $27.25.
This mint sheath dress from JCPenney is is so elegant and beautiful. It's perfect for a more sophisticated look this Easter. Check it out here for just $24.99.
This Target shift dress is certainly fun and flirty. The crochet and floral combination give it a stunning look that's perfect for Easter and beyond. Check it out here for just $24.99.
This pink halter dress from Kohl's is adorable with the scallops along the shoulders. It's a perfect color for Easter, but also comes in navy and sea green if you're less of a pink person. Check it out here for just $32.99.
Ok y'all. That's all the shopping I've done. Now it's all you. Show me your dresses!!!